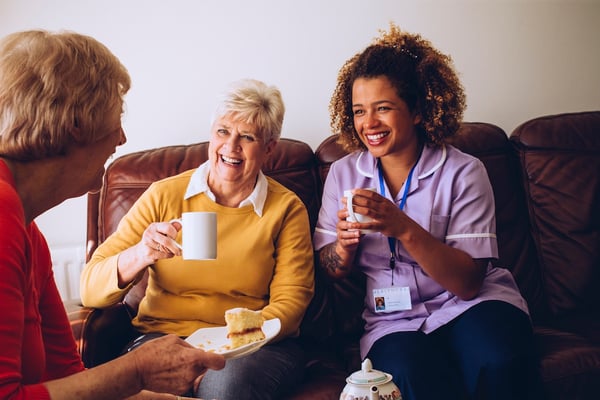 People considering careers in senior living are committed, thoughtful people from all walks of life and with a wide range of educational backgrounds. Many are eager to learn what a typical day looks like. The truth is, there's no such thing as a typical day. In fact, that's what makes assisted living careers so rewarding. There's always a new question to answer, a new person to help, a new skill to learn.
Monday might begin with a visit to an injured resident at a local hospital. Return to the community for lunch and some raucous conversation with residents, then observe a yoga class and spend the afternoon helping seniors with medication and activities of daily living. By Friday, you might be doing something completely different—preparing the dining room for the upcoming holiday social or helping residents start their own bowling league.
Every assisted living community is different. The culture of a community can change with its residents, since communities evolve to meet the needs of the people they serve. No matter where you work, though, here's a sample of what you can expect.
Meaningful Relationships
Successful senior living careers are built on lasting relationships—with seniors and with your coworkers. You may be surprised by how close you become to the people you serve. Many of our team members say that residents become like second parents or grandparents to them. Relationships make our lives worth living. Your relationship with a senior may change their world. It may also change yours.
A Chance to Change (and Maybe Even Save) Lives
Seniors may struggle with activities of daily living. This can erode self-esteem and lead to depression. While many of our residents are active and engaged members of our communities, others initially struggle with the transition to senior living.
A compassionate friend on staff can make a world of difference. No matter what you like, no matter what you care about, there's probably a resident with similar interests. Connect across generations through conversations about knitting, politics, sports, or child rearing. In so doing, you'll spend your day learning and engaging. You'll also change the lives of the seniors you care for.
You may even save a life or two. Providing quality care to seniors with medical conditions can help them live longer. It's not just about tending to physical needs, though; regular social interaction improves health, and may even help people live longer. Some research shows that loneliness is even more deadly than obesity. You don't need medical training to save lives.
Challenges That Matter
Boredom at work can make a job feel exhausting and demoralizing. Careers in senior living are never boring. You'll encounter constant meaningful challenges, such as helping families support a depressed loved one or finding a way for a senior with a mobility impairment to get exercise. Senior living communities reward creative, innovative thinking. If you're sick of boring jobs and crave a career that challenges and excites, it might be time to make the transition.
Learning From Everyday Heroes
Have you ever wondered what it felt like to fight in World War II, to participate in the feminist movement of the 1960s, or to march with Dr. Martin Luther King, Jr.? Our residents know. Their collective life experiences span decades of history, crossing oceans and continents.
Our team members often show up planning to help seniors. They find through their time with our residents that seniors help them just as much. From first-hand historical knowledge to diverse thoughts and values, there's a well of accumulated wisdom at each and every assisted living community. To tap that well, you only need an open mind and a willingness to listen.
Growth Opportunities
Careers in assisted living offer opportunities for people of virtually all educational backgrounds and skill levels. From entry-level careers as receptionists or orderlies to demanding work as executive directors or in-house physicians, there's something for everyone. Many people who start entry-level careers in senior living pursue additional education, growing into more demanding and lucrative careers.
You'll be surrounded by other people just like you—people who believe in learning and in helping others. They're there to encourage you to live up to your full potential. Residents, too, can be a surprising source of support. At Arbor, many of our team members pursue additional education at the urging of residents.
Senior living careers offer an unrivaled chance to change people's lives. Be a source of meaning and purpose. To browse careers in your area, join our Talent Network.