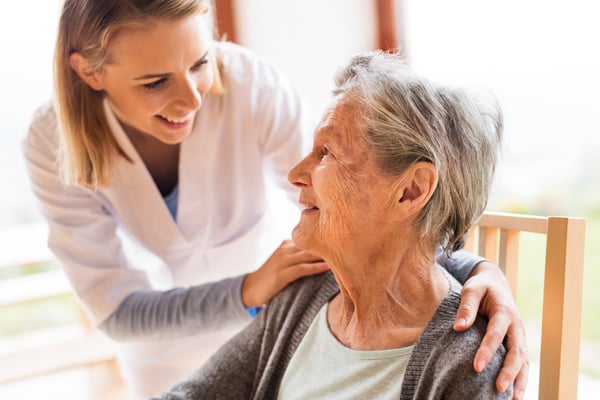 According to the United States Census, seniors will outnumber children for the first time ever by 2035. There will be 78 million seniors, and 1 in 5 Americans will be 65 or older. This means that careers in senior care will only grow. Many career paths in senior care are already experiencing a critical worker shortage. Senior living jobs offer job security and a chance to improve the lives of seniors and the people who love them.
You might be surprised by the dozens of roles available for people committed to senior care. From entry to executive level, there's something for everyone—and room to grow. Here are seven types of senior living positions that might be right for you.
Medical Jobs
If you're a compassionate, science-minded person, then a medical job might be ideal. Certified nursing assistants (CNAs) fill many daily caregiving roles and support nurses to ensure patients are safe. Nurses provide more comprehensive care, and may even serve as nurse practitioners. Some communities also employ or contract with doctors, especially neurologists and geriatricians who are knowledgeable about senior issues such as dementia.
Medical workers may eventually move into administrative and management roles.
Psychological and Work Jobs
Seniors need more than just physical care. Mental health professionals such as counselors, psychologists, and licensed clinical social workers can help seniors manage the aging process. Some senior living communities employ mental health workers; others contract with or refer to providers when their residents need additional help.
If a career in counseling doesn't feel quite right, consider a career in social work. Geriatric social workers help seniors and their families manage the many challenges of growing older. Whether you need help deciding when it's time to switch to assisted living or accessing community resources, social workers are a rich fount of knowledge. Some senior living communities, many hospitals, and numerous government agencies hire social workers.
Caregiver and Aide Jobs
Most senior living communities hire non-medical caregivers to provide support as daily advocates and friends to seniors. The specific names for these jobs vary from community to community, but many call them resident advisors. These advisors wear many hats. They may help seniors communicate more effectively with their family and medical team, support seniors to navigate common senior living challenges, or simply spend time talking to or playing games with lonely seniors.
Administrative Work
If you're great with people but have little medical training, a career as a receptionist or secretary in senior living offers a chance to meet seniors and their families and welcome them to their new home. Administrative assistants and people in similar roles answer phones, direct seniors to helpful resources, answer questions, and help ease anxiety.
Teaching and Enrichment
Do you have a skill that you'd love to help seniors master? Then a career in teaching or enrichment could be ideal. Some communities hire full-time enrichment staff. You might be the art or music director, working daily to craft an enjoyable and meaningful curriculum. Smaller communities often contract with freelancers, so if you already have a great career and experience in teaching, consider reaching out to your local senior community to offer a class for residents.
Leadership
If you have experience leading another organization, a career in senior living leadership might be ideal. Once-harried executives find that working in senior living offers more meaning and a less stressful environment. Nonprofit leaders relish the chance to serve a new population. No leadership experience? You may still be able to work your way up. People with diverse experience in geriatric care and medicine make excellent leaders.
Marketing and Development
Do you want to help seniors find the right community for their needs? Are you an expert at forming and sustaining relationships? Has your family already benefited from the support of an excellent senior living community? Then a career in marketing and development might be ideal. From admissions counselors to marketing team leads, there's something for virtually everyone with marketing and sales experience.
Senior living is the career path of the future. Now is the time to plan a career with potential for growth and a chance to learn from people who have witnessed history unfolding. Arbor is proud to offer a wide range of senior living careers. Want to learn more?