At The Arbor Company, we pride ourselves on fostering deep connections with our residents. We encourage our team members to get to know residents and family members on a personal level, discovering their favorite things, interests, and preferences. It is easy to see why staff members often say that Arbor residents are their second family.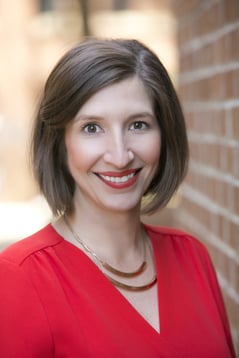 For Laura Ellen Christian, it's difficult to designate where "real" family ends and her Arbor family begins. She began her senior living career 15 years ago at Arbor Terrace of Athens and has never left the deep connection culture she grew to love. Now our Senior Vice President of Engagement & Dementia Training, Laura Ellen develops programs that positively impact resident care across the country.


A Loss Transformed
Laura Ellen's senior living career began with a major loss in her life. "I joined Arbor Terrace at a time when I had recently lost my own grandmother," Laura Ellen recounts. She began her career as an Activity Director to help others find social engagement but ended up finding many residents who stepped into a grandmother role in her life, including a resident named Lois.

"I still have small mementos and encouraging notes that Lois gave me over the years, even after my career took me from Athens to Atlanta," says Laura Ellen. "She lifted me up as I began my career in senior living."

And it wasn't just Lois that greeted Laura Ellen during this time of transition, but all of the residents that Laura Ellen got to know at Arbor Terrace of Athens. She worked in earnest to get to know each of the residents in that community, and to build unique and personalized programming that would contribute to their social, physical, cognitive, and overall well-being.
A Passion for Service
It was during this time at Arbor Terrace of Athens that Laura Ellen also developed a passion for serving those living with Alzheimer's disease and other types of dementia. Laura Ellen became fond of Athens resident Mrs. Mildred, who had dementia and became a catalyst for Laura Ellen to refine and further develop her approaches for those living with cognitive challenges. "Mrs. Mildred taught me the delicate art of person- and relationship-centered care for people living with dementia," remembers Laura Ellen. "Through many trials, we established trust and connection with one another, which led to lots of laughs, some tears, and many meaningful moments."

Now, Laura Ellen's role with The Arbor Company gives her the opportunity to develop, implement, and oversee The Arbor Company's dementia training program. This outstanding program is geared toward teaching the skills one needs to interact with, engage with, and care for residents who are living with dementia and other cognitive impairments.
A Part of the Family
Laura Ellen has the opportunity to develop national programs, mentor new team members, and travel around the country to encourage community team members. But her favorite part of the job? "The people," says Laura Ellen. "You feel like you're a part of a family that deeply cares about you as a person. The Arbor Company is truly my second family. I would not be the person I am today without them!"

Part of being in a family is to celebrate when it grows. When Laura Ellen got engaged to be married, team members and residents sprang into action, collecting marriage advice from one another to share with Laura Ellen and her then-future husband. Even better, when Laura Ellen became pregnant with her first child, the celebration continued with a new album full of tried and true advice from residents throughout the country. "It was such a thoughtful gift I will always cherish," says Laura Ellen.

We are incredibly thankful to count Laura Ellen as a part of the Arbor family. Her passion for service and her ability to encourage staff throughout the country is a gift to our company.