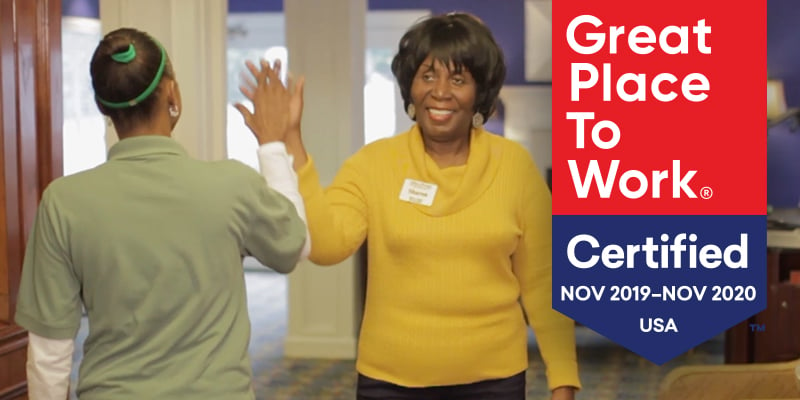 A few months ago, all Arbor Company People took the Trust Index survey from the Great Place to Work Institute. As a result of that survey, I'm now excited to announce that The Arbor Company has the honor of being certified as a Great Place to Work!
The certification process considered more than 2,500 surveys from across our more than 40 senior living communities. Great Place to Work, an independent research and consulting firm, evaluated more than 60 elements of Arbor team members' experience on the job. These included employee pride in our company, belief that their work makes a difference, and feeling their work has special meaning. Rankings are based on all employees' experiences, no matter who they are or what they do.
You can read more about our survey results on The Arbor Company Great Place to Work profile.
It is the people of The Arbor Company that makes living in our communities so special for the residents and families that we serve every day. We do that through our commitment to The Arbor Way, our set of standards that we hold ourselves to. We've long known that we provide fantastic care and attention to residents, and now with the Great Place to Work certification, we know that our Arbor People have a great place to call their work home as well.
The Great Place to Work certification was recently announced via a video that Arbor Company President Judd Harper and Executive Vice President Mary Campbell Jenkins sent to Arbor employees. Take a look: