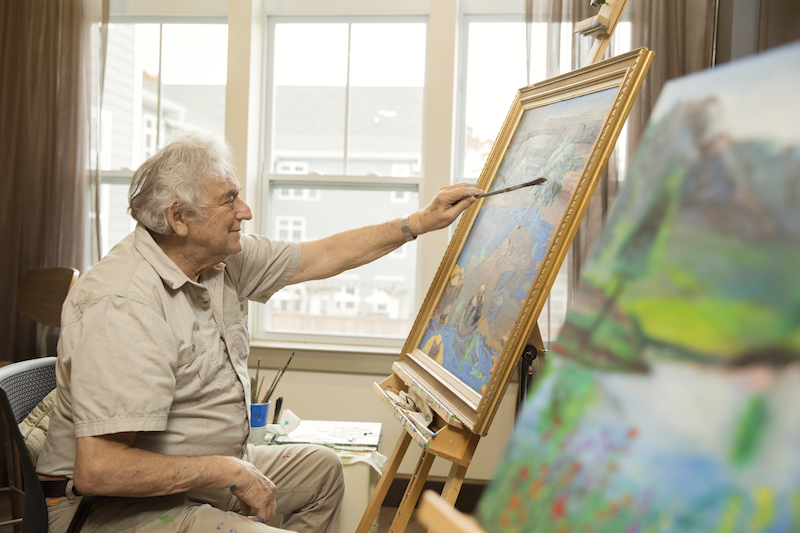 Seniors are as diverse and unique as every other age group — perhaps even more so because they've spent a lifetime learning, cultivating new interests, and accumulating wisdom. The transition to senior living should offer new and better opportunities to cultivate an active and engaged lifestyle. Research consistently shows that a wide range of activities can improve health. Socially connected seniors may live longer and healthier. Physically active seniors experience reductions in the risk of virtually every disease, including dementia.
You need more than just a few activities or a semi-regular exercise program. The best senior living communities offer a robust variety of activities designed to suit every interest and need. Here are the best engagement activities, according to our recent survey of Arbor Company community engagement directors.
Exercise Programs
Remaining physically active is critical to your residents' long-term health. But exercise can become more difficult with age and physical infirmity. Our engagement directors recommend offering a range of exercise programs. Special events such as dances and sports games can encourage seniors to invest in their physical health. It's equally important to have regular exercise programs, such as:
Yoga

Seated aerobics

Swimming

Community walks

Gardening

Community outings that encourage physical activity
Community Socials
Life is more fun when you have a special event to look forward to. Plan community socials on a semi-regular basis. Some great options include:
Happy hour for family and friends

Community outings, such as to a local winery or sports game

Dances

Special event celebrations

Events commemorating milestones such as anniversaries and birthdays and achievements such as going back to school or getting an award
Games
Games are fun. They encourage seniors to talk to one another, to unwind, and to keep their minds active. Consider trying a range of games to see what your residents like best. Some great ideas include:
Community bingo

Karaoke contests

Board game nights — Jenga is a perennial favorite in many communities

Card games
Mindfulness and Reflection
Mindfulness — the practice of being present in the moment— is linked to better health and deeper happiness. Prayer, quiet reflection, and meditation can all help community members cultivate mindfulness. Offer a range of activities that encourage a more mindful approach. Some options include:
Multi-denominational religious services

Meditation classes

Prayer groups

Speakers from various traditions who can talk about prayer, meditation, and mindfulness
Team Sports
Nothing brings out a person's childlike playfulness quite like team sports. Sports such as cornhole, bowling, balloon ball, and even Marco Polo get community members engaged, moving, and working together.
Live Entertainment
Everyone loves a concert. Try bringing live entertainment to your community, especially if you can cater the event with a gourmet meal. If you have community members who are exceptionally talented, consider asking them to put together a show. Your resident retired folk singer may relish the chance to relive his youth and entertain his friends.
The theme that permeates every engagement director's recommended list, however, isn't a specific sort of activity or type of entertainment; it's relationships. The thing that makes any activity fun is the relationships it supports. The best engagement directors form close and affectionate relationships with their residents. These relationships are rooted in empathy and deep understanding because only through knowing their residents can engagement directors develop activities they will love.
Arbor has served seniors for 30 years. We've learned a lot about what works in senior living and how to make a senior's final chapter their very best. If you're ready to make a difference in seniors' lives or transition to a thriving community of engaged seniors, we'd love to meet you. Join our Talent Network to get helpful advice like this and learn more about jobs available at The Arbor Company.