We are excited to share that The Arbor Company has been selected by Fortune as one of the 25 Best Large Workplaces in Aging Services: Senior Housing and Care.
Our focus is on providing employees with positive experiences, such as creating an environment where everyone feels welcome and respected, which contributed greatly towards our ranking among other companies competing within this industry.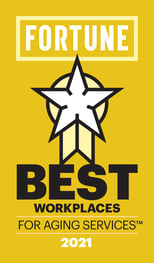 Top workplaces were determined based on surveys conducted through Great Place To Work's evaluation process, which surveyed over 220,000 working individuals across the country who provide eldercare services. 3,000+ workers from The Arbor Company submitted feedback indicating their experience at work has consistently made them feel appreciated and valued. Great Place to Work analyzed anonymous surveys representing more than 60 elements of team members' job-related experiences and found that they were most motivated by a belief that their work is meaningful, makes a difference in the community, and has had an impact.
The Arbor Company's purpose is to engage and enrich residents' lives by honoring individuality with deep connections and purposeful living. We're proud to provide an excellent work environment in which individuals can make a real difference in senior lives. Joining Arbor means joining a culture of caring: caring for our residents, caring about our work, and caring for each other.
We are proud to be a great company and a great place to work. We are dedicated to the seniors we serve, as well as each other. We offer many benefits to our employees including; competitive pay, robust health insurance plans, flexibility, opportunities for continued education, and the security of working in a growing industry. If you are looking for a career that brings fulfillment and the joy of helping others we would love you to make your home with the Arbor family. View our open positions!