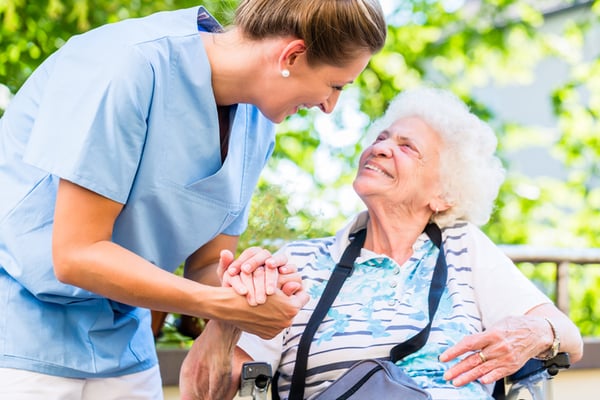 According to the U.S. Department of Labor, growth in senior living jobs outpaced growth in other careers by 3.7 percent between 2000-2010. Over the next decade, senior living will see an explosion in career opportunities as the population continues to age. By 2025, the industry will need at least a million new employees. Whether you're just starting out or ready to consider a career transition, a career in senior living offers job security, numerous opportunities, and a chance to make a difference.
Is There a Place for Me in the World of Senior Living?
The world of senior living is vast, with communities springing up across the nation designed to fill every niche and meet every conceivable need. These communities exist on a continuum from active living for healthy, adventurous seniors to intensive nursing care for seniors with complex medical needs. This means there's a place for just about everyone in the world of senior living. Whether you're a highly trained professional or someone just starting out, and no matter where your talents lie, senior living presents many opportunities.
Some popular roles in senior living include:
Social workers and other mental health professionals who counsel families and support seniors.

Administrative professionals from receptionists to CEOs, who run facilities, manage daily operations, and provide exceptional resident support.

Artists, educators, and other experts who plan seminars at senior living communities, sometimes on a freelance basis.

Health care workers ranging from certified nursing assistants and orderlies to highly skilled medical specialists such as geriatricians.

Food workers, including gourmet chefs.
A 2016 survey broke down senior care workers by niche:
32% were in health care.

28% were in personal care.

12% were in food service.

10% were in cleaning and maintenance.

9% were in management.

7% were in administrative support.

1% were in business operations.
How Much Money Can I Make?
The U.S. is experiencing a critical shortage of health care workers. In senior living, the shortage is even more significant because of a rapidly aging population. As demand for senior care workers rises, so too does pay. Senior care workers can expect competitive compensation packages, including benefits such as paid time off and retirement packages. Higher-quality communities that offer exceptional care tend to offer the highest wages of all because they demand superb work from their team.
Will I Make a Difference?
Seniors have literally seen a lifetime's worth of change in the world. They've witnessed revolutions, served in world-changing wars, and diligently worked to make a better world. They bring with them a wealth of wisdom that can guide senior care workers and inspire all who encounter them to work for a better world. Many senior care workers say that they learn life-changing lessons on a daily basis.
A career in senior living offers the chance to enrich the lives of people who have enriched our world. A person's last chapter can be their best with the right support. You'll help ease loneliness, keep seniors' minds and bodies active, and be there for seniors who have no one else. The sense of purpose and reward can give meaning to your entire life.
Where Should I Begin My Search?
The right senior living community may be just a web search away. Look for communities that cater to the senior population you hope to help. Then review their websites to ensure they share your values and offer the right cultural fit.
At Arbor, we offer a wide range of activities, field trips, and even volunteer opportunities. We believe that seniors should feel engaged and find a sense of purpose, even when they struggle with issues such as dementia and mobility impairments. We've served seniors for three decades, and have changed countless lives in the process. To join our team, check out our careers page.