In 2000, Kelley Skarp took a career detour that would change the shape of the rest of her life. She had built a career in the insurance industry, but when her husband's job relocated the couple, she found herself looking for something new. She took a job in senior living, making a mid-career decision that has left an indelible imprint on countless lives.
The Arbor Team: Kelley Skarp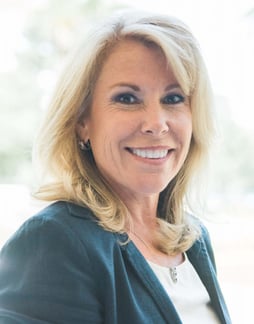 Nearly two decades later, Kelley's commitment to seniors and their care is palpable. She emphasizes in interviews that, though her role is technically in sales, she's a partner to families and seniors. She works with them to understand their challenges and find workable solutions.
Before joining Arbor, Kelley worked in a variety of senior living sales and marketing roles. She honed her communication skills and began to see sales as an endeavor demanding communication and compassion.
In 2018, Kelley joined the Arbor family as a senior vice president of sales and marketing. She says she values curiosity and integrity in others and in herself. These key traits shine through in everything she does. Kelley wants to do more than just market Arbor or senior living. She knows that finding the right senior living community can be difficult and that the transition to senior living can be rocky. In her role as a sales VP, she guides The Arbor Company to counsel seniors as they make the transition and to support families on every step of the senior living journey. Marketing senior living is not just about making a sale; it's about making a connection, then using that connection to help people solve problems. Kelley is an inveterate connector whose commitment to seniors is unmatched.
Today, Skarp instructs her team on the importance of communication and compassion. It's all about connecting to seniors who are looking for help and support. No solution can be one-size-fits-all. Guided by this principle, Kelley works with seniors and families to find the perfect senior living solution for everyone.
The Arbor Company: Seniors First
Today's senior living communities are unlike anything you've seen or heard of before. Seniors demand more from retirement than they once did. They insist on remaining independent, even in the face of progressive and degenerative diseases. And they demand respect. They want luxury living, a wide range of activities, and caring staff who see them as more than just an age.
Arbor has been an innovator in senior living for 30 years. We know that seniors deserve the best possible care, and never a cookie-cutter approach. That's exactly what we deliver, day after day, week after week, decade after decade. We work with people of every skill level and at every career stage to support seniors as they shape the retirements they want.
Our people-first attitude extends to our team, too. We believe in giving people opportunities to grow and in nurturing the innate talents of every team member. Arbor can take your career to new heights and offer a sense of meaning and purpose while you climb the career ladder.
No matter where you are in your career, if you're committed to seniors and eager to serve them, we have a space for you. To see what we're all about or to find the right career for your goals, click here.