The Arbor Company is proud to announce that Elizabeth Nix-Lloyd of Arbor Terrace Ortega has been named a 2019 OnShift Scheduler of the Year. Senior care scheduling and labor management is a challenging undertaking that requires attention to detail, knowledge about the needs of seniors, and a willingness to work closely with others. OnShift Schedulers of the Year show exceptional talent for managing all that makes senior care work. We're honored to have Elizabeth at Arbor, and this award reflects the culture that makes Arbor so great.

Elizabeth Nix-Lloyd: OnShift Scheduler of the Year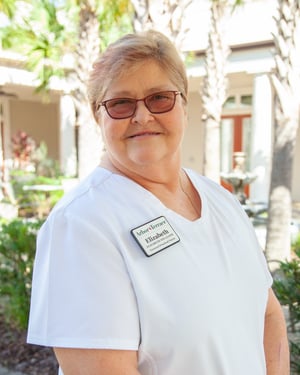 Scheduling is about more than just plugging dates into a calendar or correctly using technology. It requires a commitment to using processes to improve workplace culture. The senior living industry is a demanding one, with people's happiness and well-being hanging in the balance. The best schedulers understand that putting the right people on the schedule at the right time can make a significant difference in the lives of our residents.
Elizabeth Nix-Lloyd makes the impossible look easy. She builds seamless schedules, ensuring that our workforce is deployed in the most efficient way possible. The result is an exceptional experience for our residents, their families, and our team. After all, we believe that a key ingredient in the recipe for happy residents is a happy team. Scheduling that prioritizes team needs is critical to this goal.
The Arbor Culture
Senior living isn't what it used to be. For 30 years, Arbor has revolutionized the world of senior care, offering seniors and their families a next act full of joy, purpose, and love. We value our elders, and we know that giving flows both ways. While our team is dedicated to caring for our seniors, our residents also give much to our team—wisdom, hard-won life lessons, and the gift of friendship.
We think aging doesn't have to be scary, and that senior living should provide seniors with all that they've earned after a life of hard work. If you agree, you might be a great fit for our friendly, innovative culture. Arbor team members are people who:
Can look beyond stereotypes and ageism to see each senior as an individual.
Collaborate well.
Are self-directed and able to make good decisions.
Are willing to share ideas and suggestions for new programs and better options for serving seniors.
Deeply understand the importance of this work.
Are committed to helping seniors live their best possible lives.
Understand that a job is more than just a way to make money; it's a way to touch other lives, and potentially change the world.
Join Our Team!
You spend much of your life at work. So why not choose a job that you love, where you can truly make a difference? Our team forms fast friendships, becoming part of a connected community of people committed to transforming the world of senior care.
Whether you're an expert in the field of senior living, an executive in another field, or just getting started building your career, we have a position for you. We want enthusiastic people who are eager to nurture change and improve lives. So join our talent network and see what working at Arbor is all about!