The team members at every Arbor Company community have their own unique stories, talents, and personalities. Some come to senior living having always known in their hearts that senior care would be their career path, and others, like Regional Vice President of Sales and Marketing, Alyssa Lopez, grow to realize that senior care is their destiny.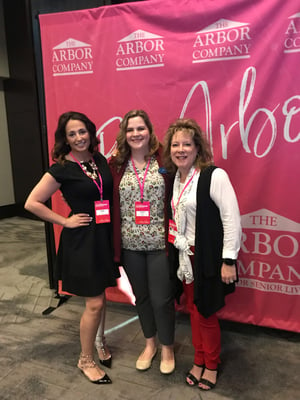 We love sharing Alyssa's story. She is full of hometown pride, has a family history rich in deep connections, and is a true example of what it looks like to climb the ladder within the senior living industry. We know you'll love getting to know her here.
New Jersey Is Home
"I was born and raised at the Jersey Shore," exclaims Alyssa. She holds fond memories of her home state of New Jersey with family and friends. At the age of 16, Alyssa knew she wanted to find a job to make some extra money. She found her new job in an unlikely place: an assisted living dining room.
"I worked as a dietary aid throughout high school and college," remembers Alyssa. During that part-time work, Alyssa made real connections with the residents she served. In fact, she still remembers Ted, a resident she met there.
"He sang 'You Are My Sunshine' to me every morning as I served him breakfast," says Alyssa. Ted reminded Alyssa of her own grandfather, a very important man in her life. "Ted always knew how to put a smile on my face," she says.
An Unlikely Career Path
Although Alyssa truly loved working as a dietary aid at the assisted living community and had a strong love for her own grandparents, she never even considered senior care as a career path. "I never thought I would make a career in senior living," Alyssa says. "I started college as a biology major and later changed to business administration with a concentration in marketing. I knew I wanted to do something in sales but also wanted to help people."
As Alyssa continued on with her education, her opportunities within senior living grew. She ended up with a series of promotions and in roles such as front desk receptionist, concierge, and eventually, marketing director. Now, 18 years of senior living experience later, Alyssa can't imagine working anywhere else.
Today, as Regional Vice President of Sales and Marketing, Alyssa supports sales and marketing efforts across three states: Virginia, Pennsylvania, and her first love, New Jersey. She spends time in 11 Arbor communities in these states, encouraging team members in the community and taking plenty of time to get to know the residents and family members in each community as well.
"I love working with my teams and seeing how happy they make the residents and family members," says Alyssa. "I also enjoy the relationships we've built along the way — it's so fun to hear about new babies and grandbabies, weddings, birthdays, or something they did with their families over the weekend."
Alyssa prides herself on making Arbor's signature, "deep connections." She takes the time to dive into conversation with team members, residents, family members, and visitors knowing that she will leave the interaction learning something new about the person.
Her time spent engaging with people doesn't go unnoticed. Alyssa has quite the fan club around her communities and around The Arbor Company. "She puts her heart and soul into everything she does and her genuine caring shines through and through," says co-worker Sandy Uphold. "She inspires others as a positive role model and leader," echoes teammate Julie Hull.
What's Next
For someone who started working in senior care as a part-time job when she was 16, Alyssa has certainly found a home serving seniors throughout the country. But she didn't just find her career in senior care. She also found her husband! Alyssa and her fiancé will wed this summer, after meeting originally in that first senior living community.
Alyssa is a true example of the magic that can happen when your heart's calling for service meets the right job opportunities. She has found family at The Arbor Company and we couldn't be more proud to have her here.
Ready to make your passion for senior care the center of your career focus? Join our Talent Network to learn more about us and to discover opportunities near you.